You've decided that its time to give skateboarding a try, but how do you get started?
First of all, just like any other sport or recreational activity, skateboarding is something you actually have to get out and do if you are going to master it. No single article is going to teach you everything you need to learn. But there are some important tips and things you need to know before you step on the board for the first time — especially if you don't want to get hurt!
The goal of this article is to provide useful advice for beginners just learning how to ride a skateboard
Tip 1: Choose a Suitable Board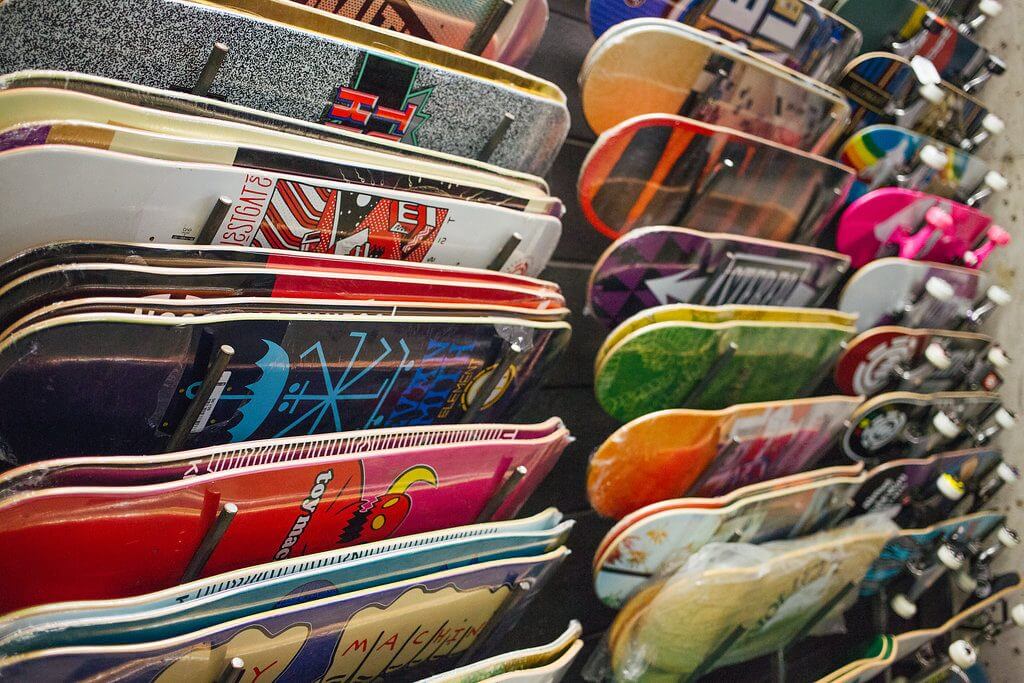 There are a number of questions to be asked when it comes to purchasing your first skateboard. You may feel confused at the local skate shop because they sell a lot of different styles and brands of boards. While it may be tempting to get one of the best skateboards on the market, it's better to take is slow — and that includes getting a "slower" skateboard.
If you are new, you don't want to start with a skateboard that is designed for high speeds and doing fancy tricks, for a few reasons. First or all, these are more expensive, and you will want to make sure that skateboarding is a sport that you will truly enjoy before investing that kind of money.
Secondly, as a beginner it will take some time to get the hang of things. This means there is likely to be a few crash and burns. The last thing you want to do is spend a lot of money on a fancy board, only to damage it on your first day out.
Finally, as you are just learning how to skateboard, you want a board that matches your level of experience. Think of it this way: if you were just learning how to drive, would it make sense for your first car to be a Lamborghini or a Maserati?
When you are first starting out, you may not want a super-curved board but a flat one for easier balance. It will help you stay on the board without having to hold other things. Longboards are a good choice for beginners since, as the name suggests, they are longer so there is more foot room. You won't be able to do as many fancy tricks with a long board, but they are easier to maneuver when just learning how to skate.
If you are someone who is interested in learning how to skateboard more for a means of transportation, you may want to consider getting an electric skateboard.
NOTE: Larger skateboard wheels roll faster, so when you are first starting out, you may want to go for smaller wheels. Softer wheels also tend to go slower, and they also grip the ground and absorb shocks better.
Now just because you aren't going for a high-end skateboard for your first board, that doesn't mean you should get a cheap board. A beginner skateboarder needs a quality board that is safe to ride. If you are purchasing a used board to learn on, make sure the wheels, trucks and bearings are in good working condition. You also want to make sure that there are no cracks or sharp edges and that the grip on the board is not worn.
Tip 2: Wear Protective Gear When Skateboarding
If you have watched any professional skateboarding competitions, without a doubt you saw them wearing helmets, knee pads and elbow protection. But at the same time many experienced skaters don't wear helmets or gear and you will see tons of videos on YouTube without them.
So, you may be wondering whether you need to wear a helmet when skateboarding?
First of all, don't for a minute think, "Well I'm not going to be going that fast, or doing any tricks, so I don't need all of that." As a beginner, it's actually more likely that you will fall.
While some states like California, New York, and Connecticut have laws that require children to wear skateboard helmets, as of this writing there currently no laws for adults — but it's just good common sense to wear protective gear when skateboarding, especially if you are new.
Tip 3: Wear a Pair of Good Skate Shoes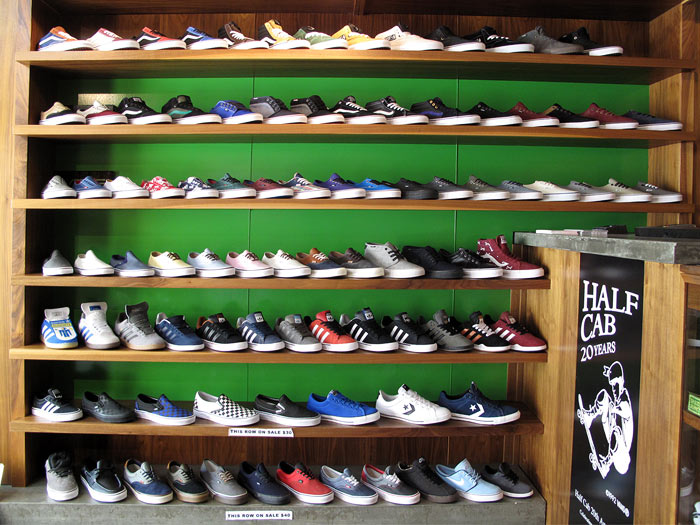 Believe it or not, the first skateboarders, because most of them were surfers, actually skated barefoot. Needless to say, this contributed to a lot more accidents.
Choosing the right shoes is necessary for any sports and skateboarding is no exception. If you wear flip-flops or combat boots to skate, you are likely to get hurt. Therefore, getting a pair of skate shoes is one of the most important things to do for your first skateboarding. You can buy shoes like Etnies, Vans, DC's, Nike SB, or Adidas as they are able to ensure both support and protection for your feet as well as your whole body.
If you are not ready to purchase shoes especially designed for skateboarding, make sure you are wearing shoes with a flat bottom and a good sole that will grip the board.
Tip 4: Learn How to Fall On a Skateboard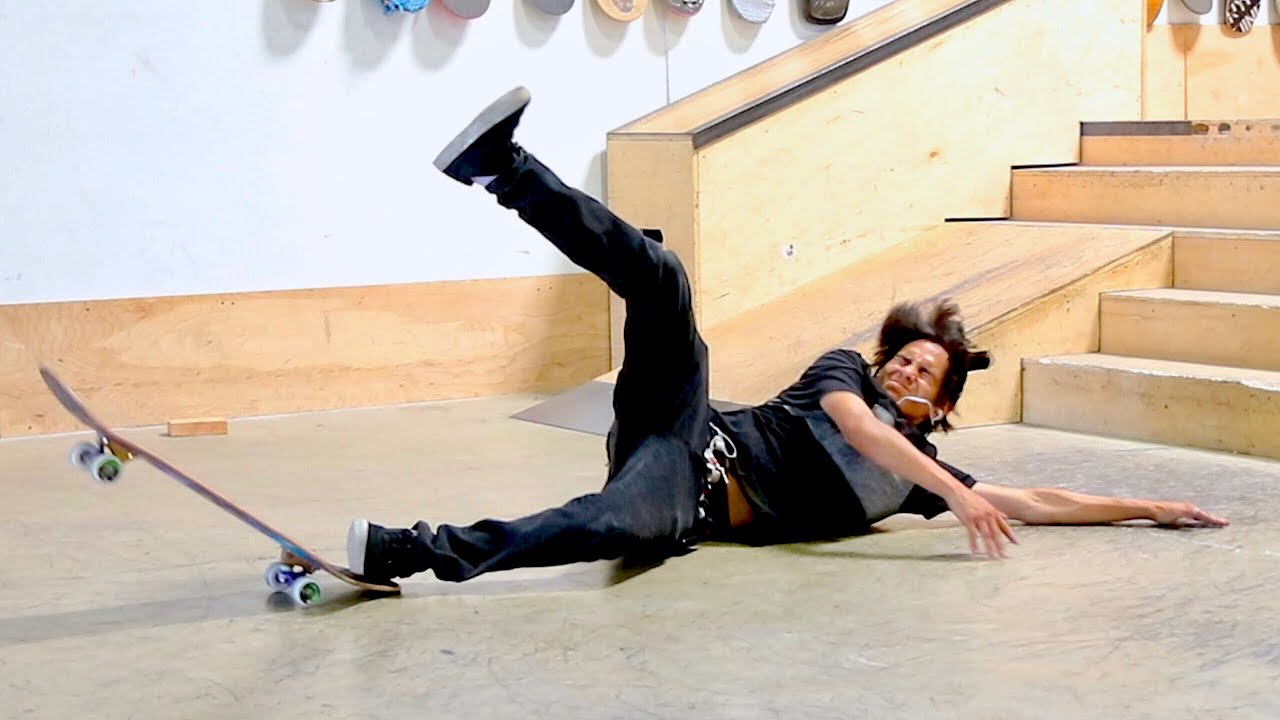 This tip may seem kind of backwards. Shouldn't you be learning how NOT to fall?
Well, yes and no. Obviously the end goal is to be able to stay up straight on your board, but no matter how good you become, there will be falls.
The trick is to learn how to fall in a way that decreases the chance of serious injury. When we are about to fall, the natural instinct is to brace ourselves for impact. Our bodies become stiff, and a there is a tendency to hold our arms straight out to try to stop from hitting the ground. In reality, this actually has the risk of making things worse, especially when moving at higher speeds on a skateboard. For example, there is more chance of sprained or broken wrists when you hold your arms out straight — your hands bear the full impact of the fall, instead of it being dispersed throughout the body.
In order to reduce major injuries, you actually need to learn how to relax when you are about to fall. You want to learn how to roll into the fall, trying to land on the softer, more fleshy parts of your body. You also want to learn how to break the instinct of reaching out with your arms, instead bringing them to your body and tuck your chin in.
This is not going to come naturally, so you should actually practice falling on the grass or other soft surfaces. Not only is this a good skill for skateboarding, but it's one that will be useful in all areas of your life.
Plus, if you don't learn how to fall safely, not only will you get hurt, but you are more likely to give up on skateboarding!
Tip 5: Find a Good (and Safe) Place to Skate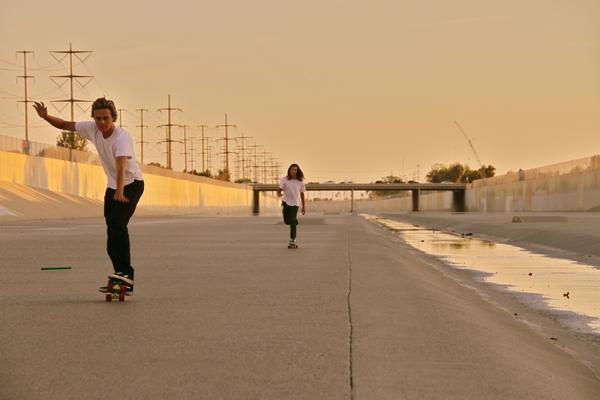 It is obvious that you cannot skate wherever you want because it is dangerous not only for yourself but also for people around you. As a consequence, you have to find a suitable place like a skate park in your neighborhood to try to learn how to skate.
If there is no official place to skate in your town, then you will have to find other alternatives. These places need to be flat and even so that you may be safe during your practice. In addition, you can also avoid want to bumps and cracks that can ruin the skateboard, but more importantly are hazards for newbie skaters.
When skateboarding, it's important to pay attention to weather conditions.
Make sure to avoid wet areas and ensure that the deck of your board and shoes stay dry. Avoid areas with fallen leaves and twigs, and watch for icy roads and black ice.
It's also important to obey local laws about where you are allowed to skate, and where you can't. Often, there will be signs posted if it's prohibited, but don't count on that if you don't want to get ticketed.
One of the best ways to find good areas to skateboard is to ask other skaters. If you don't know anyone, turn to social media for your local area. There are also apps such as Skate You, Skate Spots and Shreddit — which not only provide information about places to skateboard near you, but also have other information about skateboarding.
When you are first learning, avoid crowded areas, but don't skate alone. In case of an accident, you do want someone around to get help if needed.
Tip 6: Ask a Skater to Skate With You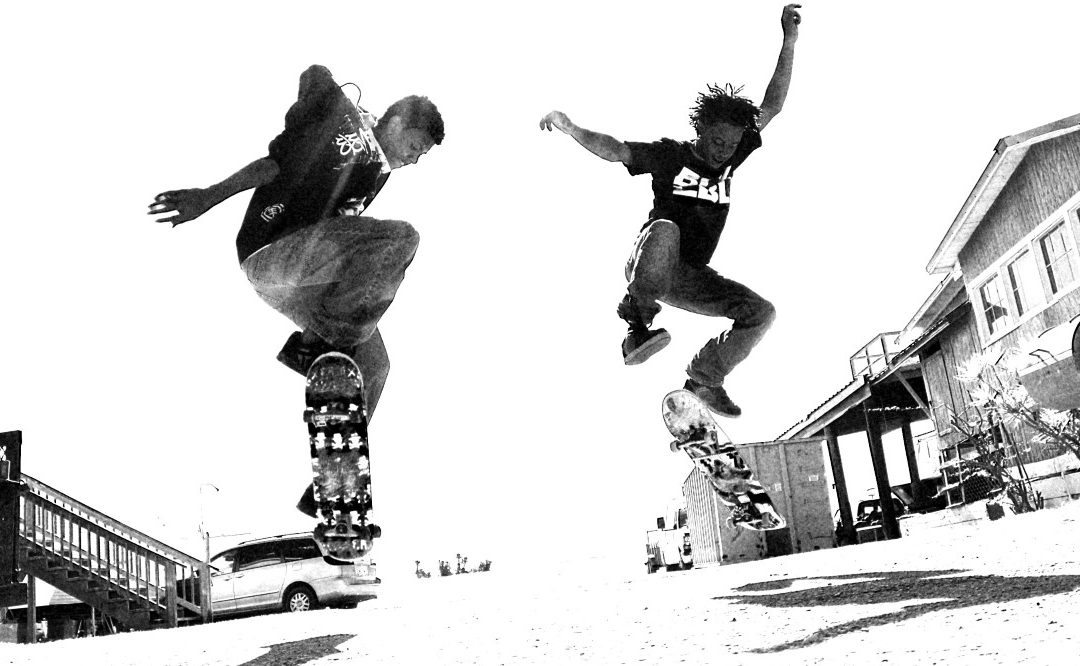 It is easier for you to learn how to skate if you have someone to skate with you.
You are also less likely to feel embarrassed when you have the support of peers cheering you on. They have been where you are, and most are eager to help.
People who are experienced in skateboarding will watch and help you improve your skills and tricks to use during your practice. They will give you helpful advice from their experience to help you skate better.
Tip 7: Practice Makes Perfect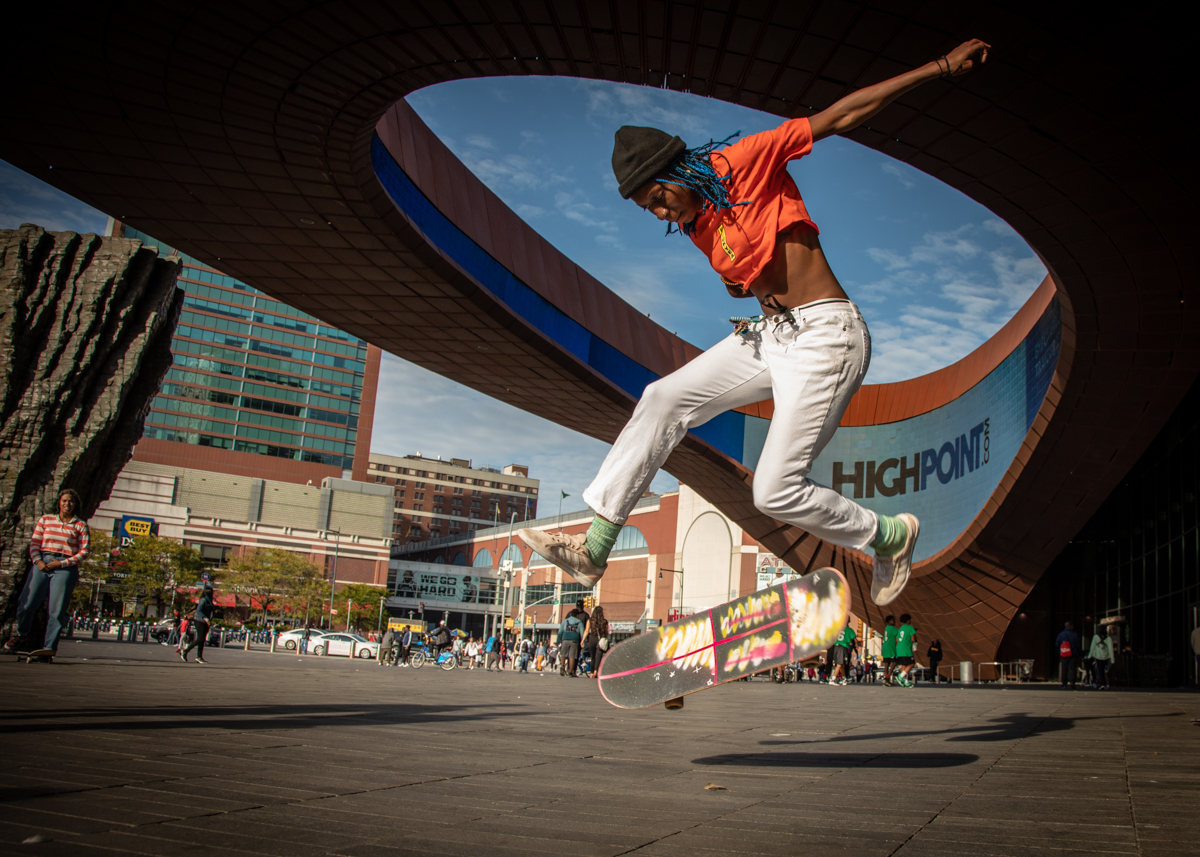 It might be very difficult when you first try to skate.
But you need to keep on skating until you can stay on the board. Depending upon your natural abilities, it may take you a bit of time and effort. But just like learning anything now, if you quit you are not able to do anything.
Just take it slowly, practicing as much as you can, and you will be more confident and improve your skills. Try to avoid discouraged comments from other people.